Akira Yoshizawa was a Japanese origami artist, considered to be the father of modern origami. Yoshizawa is credited with upgrading a children's pastime into a serious form of figurative art. He is well-known for his innovative folding techniques. He coined a notation system that made origami instructions universally accessible. Usually inspired by the natural world, his work was applauded for its simple, elegant lines and striking liveliness. In his hands, otherwise boring flat sheets of paper sprang to life as gaudy birds , slender fishes and the beautiful flora and fauna of the earth.
Yoshizawa was born on 14 March 1911, in Kaminokawa in Japan, to the family of a dairy farmer. As a child, he enjoyed teaching himself origami. At the age of 13 years, he moved into a factory job in Tokyo. His passion for origami was rekindled in his early 20s, when he was promoted from factory worker to technical draftsman. Yoshizawa taught the junior employees geometry. He utilised the traditional art of origami to understand geometrical problems.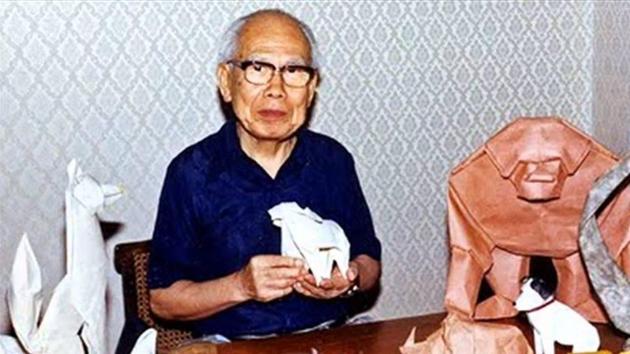 In 1937 he left factory work to pursue full-time origami . He lived in abject poverty during the next 20 years. At this time, Yoshizawa earned his living by door-to-door selling of tsukudani which is a Japanese preserved condiment that is usually made of seaweed, and meanwhile polishing up his origami skills. During World War II, Akira Yoshizawa served in the army medical units in Hong Kong. He made origami models to cheer up the sick patients. But unfortunately, he eventually fell ill himself and was sent back to Japan.
"Instead of trying to be as lifelike as possible, he tried to make it as 'living' as possible. If he was going to make a rooster, you really felt it was crowing, but you didn't have to see every detail of the feathers," Mr Sakamoto once said. The comment captures the very essence of Yoshizawa's origami- its vivacity.
Yoshizawa's origami went far beyond the erstwhile flat and static figures. He pioneered the technique of wet folding, that allows dampened paper to be molded into sculptural forms. He folded elegant peacocks, hulking gorillas, huge flying dragons as well as tiny elephants – which would continue inspiring generations.